Welcome to the Defense Overdrive Wiki!

[

]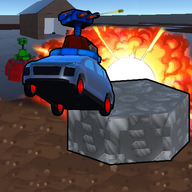 Defense Overdrive is an Action-Shooter Driving Roguelite Tower-Defense game, set in a post-apocalyptic world where an alien threat has left the world in ruins.
As the Guardian of the outpost, your goal is to build up your equipment, buildings, and skills to fend off increasing waves of enemies. Upon defeat, you're sent back in time along with your metals and coins (collected through defeating enemies). They can be used to unlock many new technologies and permanent boosts on the huge research tree, thus making you better equipped to stand a better chance against the enemies.
You can download Defense Overdrive on Google Play to get in early and help influence the game's development.
Feature Video
[
]
 	 	   

Important articles
[
]
Need help building out this community?
You can also be part of the larger Fandom family of communities. Visit Fandom's Community Central!
Community Founders: Write a good and paragraph-length description for your welcome section about your topic. Let your readers know what your topic is about and add some general information about it. Then you should visit the admin dashboard for more tips.